| BY MICHAEL A. ROBINSON
It was about a year ago when we first started exploring the world of legal cannabis investing.
At first, we looked at, of all things, Microsoft Corp. (Nasdaq: MSFT) as the world's only mega-cap "pot stock."
Plus, over the past 12 months, we've added The Scott's Miracle-Gro Co. (NYSE: SMG), GW Pharmaceuticals PLC(Nasdaq ADR: GWPH), and Insys Therapeutics Inc.(NASDAQ: INSY) to our "pot portfolio."
We've followed U.S. Attorney General Jeff Sessions' go-nowhere "war against cannabis" – and President Donald Trump's essential "green light" for medical marijuana. And we've watched legalization efforts in the United States and Canada.
It was also about a year ago that I first published my "weed investors' bible" – The Roadmap to Marijuana Millions. At the time, it was packed with 30 of my absolute favorite plays in the still-booming legal cannabis sector.
Since then, weed investing's only gotten bigger, better, and more profitable.
Over the past year, this section of my Nova-X Report portfolio has seen 10 double-digit winners and eight triple-digit winners… 291% gains… 193.3%… 189.5%.
One recommendation even saw peak gains of 1,588%.
In other words, if you're a Nova-X subscriber who jumped in when I released The Roadmap, you've likely made a mint. And you've probably kept a mint, too, if you closely follow my recommended "free trade" strategy of taking your initial stake off the table and playing with the "house money" every time a stock hands out 100% gains.
Now we want to see what's coming just around the corner.
I expect four watershed events in marijuana investing – four big catalysts… "triggers" – to happen over the next 365 days.
So let's take a look at exactly where I think the biggest profits of 2018 will come from in our "second season" of legal cannabis investing…
4 Cannabis Stock Triggers for the Next 12 Months
My team and I just finished up "Phase II" of The Roadmap to Marijuana Millions. It's already gotten Nova-X Report readers headed into the next year with the latest updated information on the best cannabis investments in biotech/pharma, recreational and medicinal retail, distribution, edibles, and more.
What's more, it's full of the latest word on the huge regulatory happenings at the state and federal levels that I believe will really "trigger" pot stocks to take off (even more than they already have).
I'm sharing these predictions with you folks today for the same reason I've shared some of my best weed investing recommendations: The profit potential is enormous.
And I want to make sure everyone has the chance to deploy their capital before these upcoming events – these catalysts – come to pass.
We're looking at some massively profitable outcomes here…
Pot Prediction No. 1: Full Legalization in California Will Be Earth-Shattering
I can't overstate this one. On Jan. 1, 2018, the state of California will declare cannabis of all kinds fully legitimate.
Make no mistake: This state's long-established medical marijuana market is already huge, accounting for about half of the total U.S. marijuana market. But when one of the world's six biggest economies takes recreational weed above board… watch out.
The chains will be off. This landmark event will line the pockets of the legal weed companies – and their investors.
I couldn't be more excited for this.
Pot Prediction No. 2: The Great Green North
Earlier this year, Canadian Prime Minister Justin Trudeau fulfilled a campaign promise to put forth a bill legalizing recreational marijuana throughout the entire country. The bill passed Canada's Parliament and was given royal assent by the Governor General.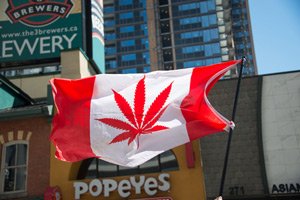 This cleared the way for July 2018, when the legal weed becomes, effectively, the law of the land, and Canada joins Uruguay as the only other country on the planet with total legalization.
This is going to act like nothing less than rocket fuel for the five micro-cap Canadian weed plays we've picked up "on the cheap," and I expect it will catalyze round after round of gains in most, if not all, Canadian weed stocks.
What's more, Canada (and Uruguay's) success with legal weed will serve as a model for other countries' pot plans, especially in Europe – and in several states here at home.
Pot Prediction No. 3: The Next 1,100% in Gains
We were early – very early – to pick up on the extreme profit potential of the world's first cannabis biotech, United Kingdom-based GW Pharmaceuticals. This firm had the U.K.'s first-ever license to grow pot for medical research purposes, and that "first-mover" status pay off.
GW marketed the first cannabis-based medicine on the market, Sativex… and the rest is history. The company, previously traded only in London, listed shares on the American Nasdaq exchange and paid folks who got in early quadruple-digit peak gains.
I'm expecting lightning to strike twice with GW Pharma, as the U.S. Food and Drug Administration approves its newest cannabis-based therapy, Epidiolex, for use in the United States. There's nothing quite like an FDA approval to ignite a biotech stock.
And it makes me confident in the future of other cannabis-based treatments from other pharma companies, too.
Pot Prediction No. 4: Crypto-Cannabis Goes Mainstream
I'm predicting that 2018 will see a major convergence of cryptocurrenciesand legal cannabis. We're just starting to see the first glimmers of this happening now, and it's not quite ready for "prime time," but I see the year ahead shaping up to be one where cryptocurrencies and legal weed make some big mainstream gains… together.
Some Ethereum-based companies are already focusing their efforts on cannabis. Paragon Coin – a venture of weed guru and former Miss Iowa Jessica VerSteeg and hip-hop musician Jayceon Taylor (The Game) – is trying to build a blockchain-based "ecosystem" for the weed industry.
Let me be clear: Many of these ventures will fail (I don't think investors should put their hopes in rappers and ex-beauty queens), and some will take millions of dollars along down the tubes for the ride.
However, the floodgates are open and the idea is out there.
I'm totally confident that sometime in the next year we'll see a "convergence" of crypto and cannabis worth jumping on.
Now, I make sure all of my Nova-X Report subscribers get the recommendations and research in Phase II of The Roadmap to Marijuana Millions.
link to article here @
https://strategictechinvestor.com/2017/10/my-four-biggest-predictions-for-cannabis-investing-in-2018/