Pot stock investments remain speculative since marijuana is still illegal under U.S. federal law. Plus, the Trump administration has been vague on its cannabis policies, leaving investors in the dark.
However, 29 states and the District of Columbia have legalized medical marijuana. And in the November 2016 elections, residents of Massachusetts, California, Maine, and Nevada all voted to legalize recreational marijuana.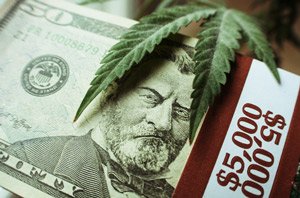 And while the Trump administration has been vague at the federal level, President Donald Trump still seems to be a proponent of state marijuana laws. After the rest of the country legalizes medical cannabis, recreational legalization won't be too far behind.
This will remove the stigma some investors have of investing in marijuana stocks. That will create more demand for pot stock investments, which can send prices skyrocketing.
That's why today we wanted to provide Money Morning readers with a pot stock watch list as marijuana legalization sweeps the country.
And the first marijuana stock on our watch list is one of the safest pot stock investments on the market to own right now…
Pot Stock Investments to Watch, No. 3: GW Pharmaceuticals
GW Pharmaceuticals Plc. (Nasdaq ADR: GWPH) has consistently been one of the best marijuana stocks to watch for several years running.
There are two important reasons why GW Pharmaceuticals is a top-quality pot stock. The first is that it is traded on a major index, which has stricter regulations in terms of being listed than over-the-counter (OTC) markets.
Most pot stocks trade on OTC markets.
The second reason that GW could be a good play is its several major marijuana-based drugs in development.
GW's drug, Sativex, is already out in approximately 30 countries (not the United States) for the treatment of spasticity related to multiple sclerosis (MS). They are continuing to expand the use of this drug to other conditions.
Their other drug, Epidiolex, is under development.
Over the last 12 months, the GWPH stock price is up 19.59%.
And the next marijuana stock on our list has performed even better, climbing 127.27% in the last 12 months…
Pot Stock Investments to Watch, No. 2: Marijuana Company of America
Marijuana Company of America Inc. (OTCMKTS: MCOA) is based in southern California and is diversified in several areas of the cannabis business. It distributes marijuana and hemp-based products on a global scale.
The company's CEO, Donald Steinberg, was the founder of Medical Marijuana Inc. (OTCMKTS: MJNA).
The company has the "hempSMART" brand that is supposed to promote brain function, and they are entering the cultivation business through a joint venture with Bougainville Ventures Inc.
Over the last 12 months, the MCOA stock price has climbed 127.27%.
Pot Stock Investments to Watch, No. 1: Innovative Industrial Properties
Innovative Industrial Properties Inc. (NYSE: IIPR) is another real estate-focused company that is operating as an umbrella partnership real estate investment trust (UPREIT).
IIPR is looking to make money on the marijuana industry through the acquisition and leaseback of various cannabis facilities. For example, the company will purchase a property from a marijuana cultivator and then lease that same property back to the grower.
According to CNN, the IIPR has plans to purchase a $30 million property for this purpose in New York. They also plan to use their $67 million IPO proceeds for additional purchases in states where marijuana cultivation is legal.
So far in 2017, the IIPR stock price is down 5.15%. But the stock price is expected to climb once Innovative Industrial closes more deals.
Turn a Small Stake into a Fortune: A new earth-shattering government announcement could completely change the legalization of marijuana – forever. In fact, thanks to this historic legislation, tiny pot stocks trading for under $5 are getting set to double, triple, or quadruple. In an exclusive interview with Money Morning, pot stock expert Michael Robinson shares all the good news – including details on five tiny weed stocks that could potentially turn a small stake into $100,000.
link to article here @ :
https://moneymorning.com/2017/06/21/3-pot-stock-investments-to-watch-now/